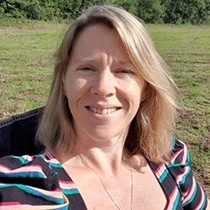 By Lisa Hunter, Rotary Club of Maidenhead Bridge, Berkshire, England
I am so proud to belong to an organization that empowers ordinary people to work together to make a difference in other people's lives. Through the Rotary network, we come together to use our skills and knowledge to support each other and build up our communities.
Nowhere was this more apparent to me than at the beginning of the pandemic, when our community went into lockdown and people were isolated and shut in. My club formed a Community Response Team to mobilize a network of volunteers to do what we do best: support those who need help in difficult times.
In mid-March 2020, we set up a web portal where people could fill out a form and ask for our help with certain errands including shopping, picking up medication, or even walking their dogs. We also had volunteers who would call people who wanted someone to talk to. In addition, we supported 23 families referred to us either directly by local schools or through other charities, with weekly food parcels.
We launched a marketing campaign to get the message out including sending out press releases, conducting radio interviews, and posting notices around the community. We also knew we would need many volunteers, so we put together a robust volunteer management plan outlining what we expected of our volunteers, how they could protect themselves and the people we were helping, and where they could call to talk about any concerns or share their experiences. We established links to trained counselors to provide emotional support for volunteers if needed.
We ended up supporting more than 150 households working with other groups and charities in our communities and assembling a pool of 120 volunteers. Some of these were existing Rotary members, but the vast majority were people who responded to our call for help. We were able to perform more than 3,800 errands that equated to more than 6,500 volunteer hours.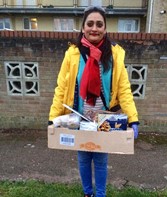 Club member Nisha Chettri helps deliver food to shut ins during the pandemic. Photo by Harrie Hayward
Our worry was that we would emerge from the lockdown and find that there had been people who hadn't been able to get the food or help they needed. We wanted to make sure everybody had somebody to keep them supplied and looked after.
As part of the weekly food parcels, I went to the supermarket for 42 weeks conducting a mammoth shop for food, filling my car to the point where I couldn't see out the rear-view mirror and then transforming my home into a mini supermarket. My daughter Chloe got involved and helped to create all the food parcels for our team of five delivery drivers to pick up.
To bring a bit of fun to the project, we also included special treats such as Easter Eggs for Easter, Christmas presents and sweet treats for the festive season, a pumpkin to carve at Halloween, pizza making kits and special baking kits that included a recipe and all the ingredients needed to make it.
I had one mom send me photos of her children making flapjacks using the recipe card and ingredients we'd included in their parcel one week. They looked so happy, but I did feel slightly guilty as they insisted on getting up at 6 a.m. to make them. Still, it showed how we were making a difference by providing cheer through tough circumstances.
As the children went back to school, we also included various items of stationery and cards wishing them well.
The last element of our plan included providing winter support grants to help struggling families pay their heating bills and giving them tools and information to manage their ongoing bills or reduce utility costs. One thing we have been mindful of during the whole project is ensuring sustainability. The last thing we want to do is pay off someone's heating bill and have them be in the same position in a couple of months. This involved working with other charities to help families research better energy providers or referring some families to debt counselling services.
We were one of the first towns in the United Kingdom to set up mass vaccination clinics and once again we rallied our volunteers to help manage the lines, register people, and make them feel at ease as they came in for their shots. We had a separate team calling all those eligible for vaccination to encourage them to come in to be vaccinated.
Never in our wildest dreams did we think the project would become as big as it did, or that there would be so much need. But it was so rewarding to be there to help when people really needed us. I am immensely proud of my club's efforts and believe the project demonstrated the power of Rotary to make a difference.
Editor's Note: Lisa Hunter received the British Empire Medal for her work mobilizing her club's response to families in need during the pandemic in Berkshire.